Bacon and Chestnut Scones
Yaaay, autumn! Well, it's September. The temperatures are still just below 30 °C, but it's September nevertheless, which means pumpkins and crunchy leaves and candles and, last but not least, lots of delicious comfort food.
Being the fanatic autumn lover that we are, a friend of mine and I are having a weekly photo challenge from 1st September to 30th November.
This week's topic is autumn recipes. Of course there are like a gazillion delicious pumpkin recipes out there, but I wanted to challenge myself to do something without pumpkin. I found this recipe for Maple Bacon Buttermilk Scones, reduced the amount of bacon and added chestnuts instead (my second favourite autumn/winter food right after pumpkins!).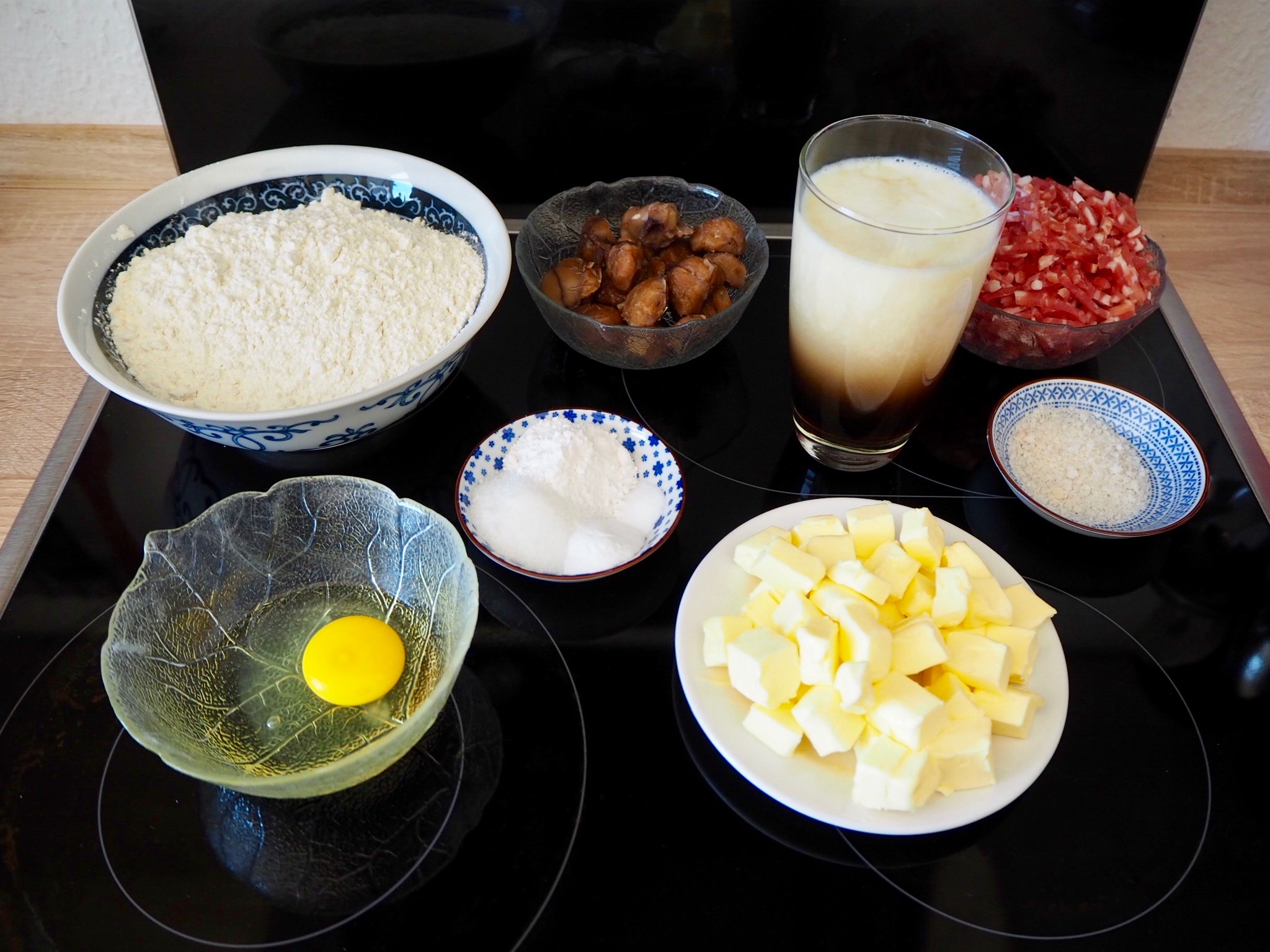 - 150 g bacon
- 100 g chestnuts (ready to use)
- 450 g flour
- 2 tbsp sugar
- 1 tbsp baking powder
- 1 tsp baking soda
- 1 pinch of salt
- 225 g cold butter, cut into small cubes
- 180 ml maple syrup
- 180 ml buttermilk
- 1 egg
- sea salt
Fry the bacon in a large pan until it's super crispy. Leaving the liquid fat in the pan, transfer the bacon to a plate covered with kitchen paper and let it cool.
Roughly chop the chestnuts and fry them in the bacon fat. Set them aside and let them cool.
Preheat the oven to 180 °C (160 °C fan).
Mix the flour, sugar, salt, baking powder and baking soda in a large bowl.
Add the cold butter. Press it into the flour mix with the back of a fork until everything is well combined and looks a bit like breadcrumbs.
Pour in the buttermilk and the maple syrup, and mix together with the fork.
Add the bacon and chestnuts.
Transfer the dough to a floured surface (add more flour if it's too wet and sticky), roll it to approx. 3-5 cm in thickness and cut out 5 cm diameter circles. Put the scones on a floured baking tray.
Lightly beat the egg and brush the scones with it. Sprinkle them with sea salt, then bake them in the oven for 25 minutes.